Back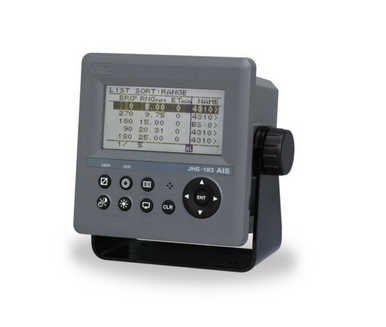 Product code: 100328
AIS JHS-183
AIS JHS-183 is designed as an essential tool to facilitate the avoidance of collisions and vessel steering with а new display and a transponder for long range reception. It complements the geographical data displayed on the ECDIS or radar with broadcasted data from other vessels with AIS, and gives the opportunity for a prompt contact by transmitting ship's own information. Manufactured by JRC, AIS JHS-183 is highly reliable and easy to use piece of equipment.
Inquiry
By clicking the 'Inquiry' button you add this product to your cart.
Product has been added to your cart successfuly.
Short overview
JHS-183 features highly visible 4.5-inch LCD display with dual colour backlight mode – white and orange. The various display modes, fully dimmable function and backlit key functionality facilitate the device usage in different light settings on the bridge. This AIS equipment has guard zone function which triggers visual and audio alert for any vessel entering the set area. The device is can be configured to recognize and display own group of vessels, and receives AIS-SART signals and prioritizes them at the top of the display. It can show up to 200 AIS targets. Convenient menus on the screen guarantee ease of use. The display can be connected with radar or ECDIS, GPS and gyro. The JHS-158 is equipped with automated self-diagnosis capability to aid maintenance and increase system reliability. The new design makes flush mount kit redundant and screws are neatly concealed behind the front cover. Installation is simple as the JHS-183 consists of two components – display and transponder, connected with a single coax cable. Optional connection box gives the possibility for advanced networking with a variety of interfacing options such as DGPS, alarm, long range, and more. LAN interfacing and a dedicated pilot plug are also available for configuring connectivity to the vessel's network.