Back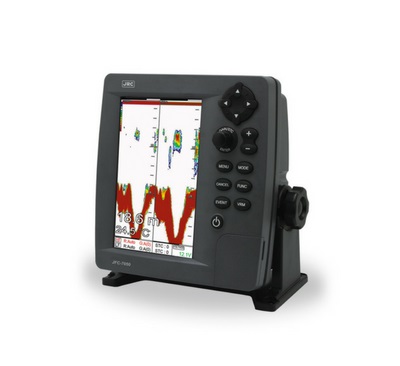 Product code: 100335
FISH FINDER JFC-7050
JFC-7050 Echo sonder / Fish finder - fish detection is even easier thanks to the 7-inch high-brightness display and clear visualization for accurate data reading. The JFC-7050 works in 2 frequency ranges - 50 and 200kHz. Lower frequencies are better suited for exploring the bottom and higher frequencies are more useful in shallow waters. This allows you to detect the differences using the two frequencies. get an even more accurate picture and maximize the catch.
Inquiry
By clicking the 'Inquiry' button you add this product to your cart.
Product has been added to your cart successfuly.
Short overview
The JFC-7050 features a 7-inch high-resolution LCD color display. The preferred display mode can easily be selected using simple pop-up menus, similar to those on your personal computer. To get an even more detailed and accurate picture, you can zoom the bottom and view it simultaneously with the normal seabed on a split screen. The sonar has several alarm functions for fish passages, depth, water temperature, and navigation data to facilitate fish finding and help navigate safely. Interface for connection to other systems - the transducer is a key element that measures depth and temperature by sending ultrasonic signals that determine the seabed conditions and the presence of underwater life. With a separate NMEA0183 input / output display, it can be connected to a GPS receiver to determine position and speed. It is compatible with GPS devices supporting SBAS, DGPS and GLONASS. You can choose from a number of Airmar transducers according to the vessel and the preferred way of installation. Compatible models are B45 - bronze transducer, 2.5kg, 600W rms, mounting thru hull; P58 - plastic triducer, 0.5kg, 600W rms, transom mount; P319 - plastic transducer, 0.6kg, 600W rms, mounting thru hull; B60 - bronze transducer, 1.4kg, 600W rms, mounting thru hull.
Information
| Name | Parameters | Additional info |
| --- | --- | --- |
| Dimensions | 213mm x 210 mm x 90 mm | |
| Weight | 1,8 kg | |
| Display unit | 7-inch colour LCD (800x400 pixels) | with LED backlight |
| Brightness | 500 cd/m2 (16:9) | |
| Frequency | 50 / 200kHz | |
| Range | Depth: 2.5 - 1200m; Shift: 0-1200m | Bottom zoom: 2.5/5/10/20m |
| Modes | Auto range, auto gain, auto STC | |
| Power supply | 12-36V DC | |
| Consumption | 18W | |
| Alarms | Depth, water temperature, fish school (depth, range) | |
| Other | | |
| Operating temperature range | Operating: +25 до 50C;Storage: -20 до 50C | |
| Durability | IP 55 | |
| What is in the box? | Display, bracket, sun cover, power/ data cable (1.5m), manual. | |